Why Use General Contracting Services for Your Building Restoration Project?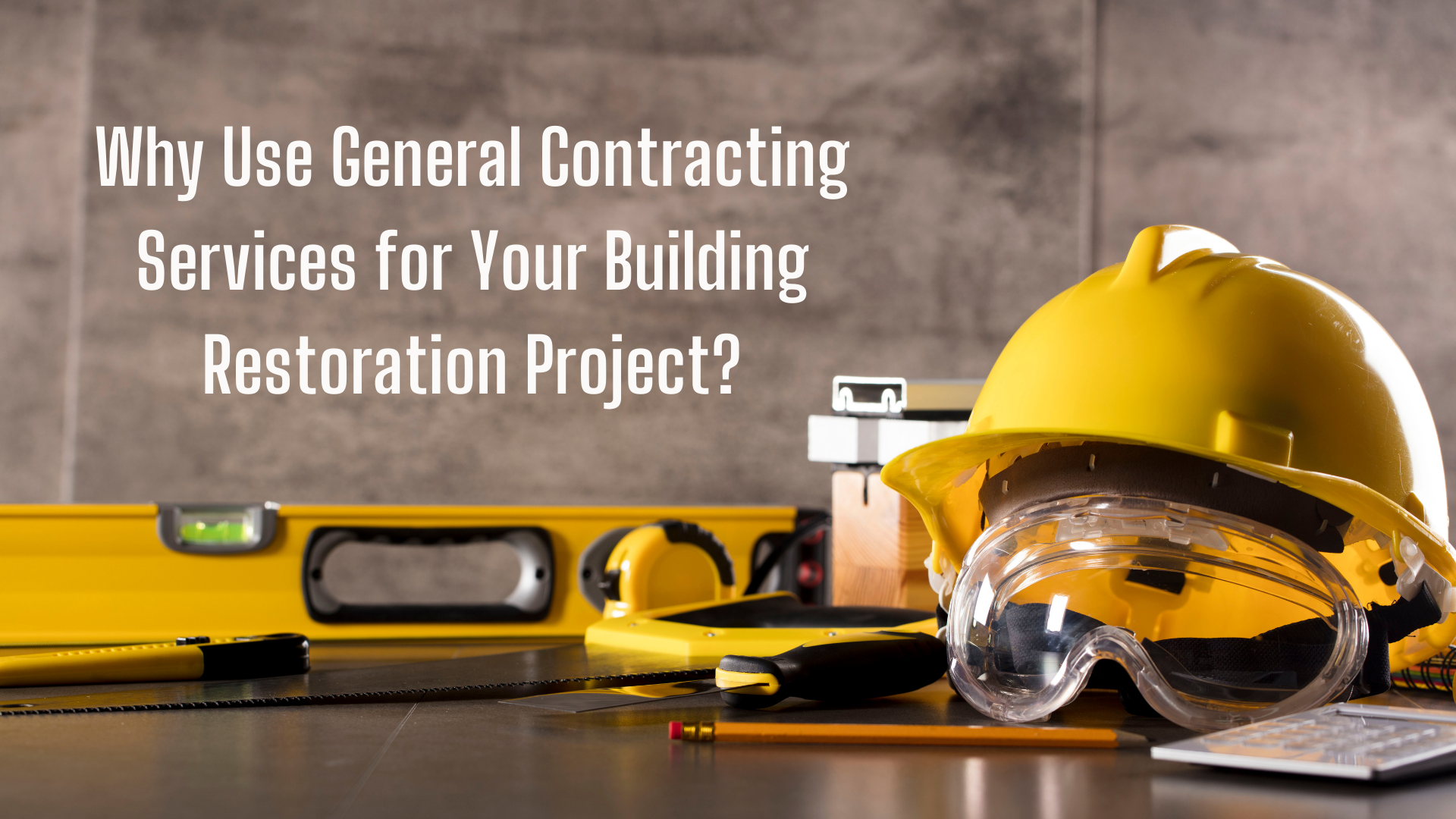 If you are planning a building restoration project, finding the right people to complete the work is a crucial component of your overall success. A quick search can lead you to a range of different specialty companies that claim to be the ideal choice for a building restoration, but you may be better off using a general contracting service to get the job done.
What Is a General Contractor?
A general contractor is a focal person who coordinates and supervises building constructions or remodelling projects. They bring together all the trades, vendors, and project stakeholders to ensure quality, timeliness, and clear-cut communication.
General contractors are responsible for hiring, scheduling, and overseeing all the subcontractors at the site. They also source supplies and help you obtain all the necessary construction permits and licenses.
General contracting comes in handy for all different types of renovation projects, both commercial and residential. When it comes to a commercial building remodel, finding a good general contractor to act as the quarterback for all the other services that need to be performed offers an array of benefits.
Top 6 Benefits of Hiring a General Contractor for Your Building Restoration Project
Planning and executing your renovation projects may be tempting, but it also means that you will have to be right in the thick of things from start to finish. Letting a general contractor take the lead offers benefits that include:
1. Credibility
When you need a building envelope restoration or other repairs made to your building, hiring a reputable general contractor adds a level of credibility to the project. Not only can you feel at ease and able to focus on other things, but everyone else involved in the project will also have Peace of Mind knowing that the job is being done by a proven professional.
Also, if time is a factor, hiring a contractor you know and trust that has positive reviews and customer testimonials will make the process go much faster so the job will be completed as soon as possible. Quite often, a lot of time is wasted in the vetting process. But if you have a list of reputable general contractors to choose from, much of the work is already done for you and you can focus on other things. Choosing a reliable contractor also includes a level of accountability because they are responsible for subcontracting all of the different jobs that are required and will take responsibility if something goes wrong.
2. Lower Costs
Established general contractors typically bring a lot of experience to the table and with that comes a list of contacts that can help you get the best prices for materials and labour. The last thing you want to do when it comes to a building restoration is to focus only on pricing, but that doesn't mean you have to overpay to get high-quality results.
It only stands to reason that an experienced contractor will have access to a wide range of subcontractors and lower prices for materials than you would have yourself. While you may have no clue who to call for certain materials or supplies, a good general contractor will have everything worked out ahead of time and will know exactly what to do to get you the best prices possible for each phase of the restoration. General contractors also have experience with budget control, knowing how to allocate your money to ensure the project gets completed on time and you remain within your budget.
3. A Streamlined Process
A building restoration project, commercial or residential, does not mean that your life must stop. You have work, personal, and family responsibilities to uphold. So, if your remodelling project is complex and likely to take a considerable amount of time, it is better to leave the management of your project to the pros.
Experienced general contractors will efficiently juggle various tasks related to your project. They will manage hiring subcontractors, scheduling tasks, and material deliveries. That is what they always do. This will give you the peace of mind to go about your daily life. One of the biggest benefits of using a general contractor for your building restoration is that they have a proven process in place, and they have experience when it comes to working with property owners, tenants, visitors, customers and others that may need to use the building during the remodeling period.
4. Single Point of Contact
Coordinating your work can be a nightmare, often involving more than one contractor. Of course, getting timely reports and feedback from the various subcontractors on different activities on your property can be challenging and time-consuming.
Can you imagine getting reports from your plumbing, HVAC, flooring, caulking, soundproofing, electrical, painting, and roofing subcontractors?
Luckily, established general contractors have teams to ensure that everything moves within a set schedule. And should you want any reports, all you need to do is contact your contractor. You do not have to call a meeting with all the subcontractors or make endless phone calls. Your contractor acts as the quarterback of the entire project and all you have to do is communicate with them to get updates and feedback when you need it.
5. Insurance, Permits and Regulations
With any renovation project, especially for commercial buildings that cover several stories, there's always the potential for legal issues. therefore, it's crucial to have the necessary liability insurance, building permits and other documents in order to be in compliance with local regulations and bylaws. A general contractor will be well versed in all of the legal aspects of performing a building restoration so you can feel confident that you'll be covered regardless of what happens during the project.
6. Lower Likelihood of Mistakes
The last thing any business owner or property manager wants is to have mistakes made during the restoration process. If you're having a building envelope restoration or a complete restoration to the entire building, using a proven general contractor that has real-world results will lower the likelihood of mistakes considerably. If you've ever used an inexperienced or amateur service provider for building repairs or renovations, you may be all too familiar with having to call in a professional after the fact to fix mistakes. Peace of mind is one of the primary benefits of using a general contractor for a building restoration, and their ability to provide you with mistake-free work is a big part of achieving the peace of mind you want.
Conclusion
Using general contracting services for your building restoration projects comes with many benefits. They bring in the relevant experience, skills, knowledge, and expertise to complete your project faster and with a more appealing outcome. Having a general contractor coordinating, supervising, and scheduling tasks gives you sufficient time to focus on other aspects of your life that are important while your project remains on schedule.
Contact us today and learn more about how your restoration project can benefit from our services.
Sources
https://finance.yahoo.com/news/importance-construction-project-management-080055330.html?guccounter=1&guce_referrer=aHR0cHM6Ly93Y2JyLmNhLw&guce_referrer_sig=AQAAAJgEDRlAR6l7ODPYa_YNOXIXlp7XGaQBsfGknDFd7gb64r7kEb_qDf5_2SZSAT98oqERMJTmZEXQ2N3QaakmGnVTjXd-O5B2_WrniDagU2-7ijUFNkfxzOlSQ8RTnqEC5NMg2UoIF8-KrKQ6vn_75lLY4hwjLPI6vsnmDi_tvV-s
https://www.cbfcontractinginc.com/top-5-reasons-to-call-a-commercial-contractor-for-any-restoration-work/#:~:text=Whether%20it%E2%80%99s%20an%20emergency%20or%20a%20regular%20project%2C,can%20take%20care%20of%20the%20tile%20and%20furnishings
https://www.ecosys.net/knowledge/construction-project-management/
https://titanrebuild.com/benefits-of-hiring-a-general-contractor/